Jeremy Hall holds out his medal for me to take a picture. Note the little Mickey Mouse head where the lanyard attaches!
Apologies for taking so long to get this published this morning (afternoon), but my hands just thawed out enough to begin typing. While it might have been a cold night in Florida, the New York Red Bulls turned up the heat on a Toronto FC that was barely present, and kept it up for a full 90 minutes. When the final whistle blew, the scoreline read 4-0 in favor of the Red Bulls, and we had a new piece of hardware for our collection,
winning the inaugural Walt Disney World Pro Soccer Classic
in style.
The ESPN Wide World of Sports complex
is, well, a sports complex. Surprisingly for Disney, it is not laden with tons of souvenier shops and cross marketing opportunities. The major attraction is the spring training home of the Atlanta Braves. Besides that, there are several other baseball/softball diamonds, several rectangular fields for use as soccer, American football, lacrosse, etc., and a field house for indoor sports as well. On Saturday, this was being used for a high school or possibly junior high school cheerleading competition. The place was overrun with awkward cliques of girls, their stressed out stage moms, and dads wondering where the hell the ESPN Zone Sports Bar was. (There was one small bar on the campus, but that was it.)
The soccer fields were located all the way in the back of the complex. Once walking over, it became obvious that the sightlines were, well, less than ideal. Midline seats were probably the worst in the house, as there were large announcer/camera/VIP towers on the center line which completely blocked the view of the opposite goal. It didn't take long to decide that the best "seats" in the house were standing at the faux white picket fence on the sideline, at the top of the penalty area. And so that's where I set up camp.
I knew with the previous game being only two days prior, that I might expect a few changes to the lineup, but honestly there was very little different. The main exception was that Dane Richards had the night off, with Jeremy Hall getting the start on right midfield. The full starting lineup was: Bouna//(L-R) Miller/Ream/Petke/Jaager//Oebster/Ubi/Lindpere/Hall//Angel/Agudelo.
With such close proximity to the pitch, and the thousand or so spectators on hand, it brought the action very up close and personal. You could hear all the shouts and communication on the pitch. One of the first things I noticed was the way Petke and Bouna were really communicating with rookie Tim Ream - helping him position and pass, and keeping him aware of Toronto's movement and attacks (well, what passed for an attack.)
The next thing that stood out, standing where I was on our left sideline in the first half, was Roy Miller. This man was everywhere, doing everything last night. Solid defending, putting opponents on their weak foot, great movement and overlapping runs. He is an attacking defender with a nice touch, and looks to be a great pickup for this team and great fit in the system Coach Backe is implementing.
The first half was full of opportunities for the Red Bulls. Ubi found Angel on an early free kick, but JPA kicked it straight at Toronto FC keeper, Stephan Frei. Angel put a nice-looking bicycle kick wide of the goal about five minutes later. There were also attempts by Agudelo and a missed header by Ream, all in the first half hour.
Finally, in the 32nd minute, Angel got his head on the end of a Lindpere corner kick for his first goal of the night. Lindpere was taking all corners from both sides, by the way. He also showed a good ability for keeping the midfield organized.
A quick word here about that word:
organized
. The Red Bulls' *organization* was THE thing that stood out to me last night. This is a team that kept its shape, that showed awareness of the ball and the defense, that strung together passes and moved the ball as if Toronto was made of Swiss cheese last night. Anyone who suffered through watching them last year might have had a hard time believing that these were largely the same group of men. Coach Backe, from all reports, started with the basics - defensive shape and fitness, and has methodically been working on building an offense around pace and great passing, both to feet and into space. The Red Bulls are playing with an awareness of what their opponents are doing, and what they are doing that was completely unseen last year.
OK, back to the report. The Red Bulls second goal came just five minutes later on an outstanding through ball from Ream to Miller. Miller crossed it into Angel who easily put it past Frei. Yes, you're reading about the Red Bulls. Through ball-cross-service to Angel-goal. Created by two players both brought in by the Soler/Backe/Williams team.
The half-time whistle blew and I was having visions of
cinco a cero
in my head. Or should that be in a language Toronto fans can understand? Here, let me put on my French-Canadian mime outfit, then I'll stomp five times while holding my hands up like bull horns. Then, I'll turn an empty Labatt's bottle upside-down while making a big frowny face. Got it, Toronto fans?
The second half saw a few replacements, with Caleb Patterson-Sewell, not Sutton, taking over in goal, Sassano coming in for Jaager, de Luz taking over at left mid, and Chinn up top in for Agudelo. It took only four minutes for Angel to get his hat trick. (I realize it's pre-season, but is this JPA's first hat-trick for the Red Bulls?) After the third goal, New York did pull back a little bit, and Toronto made a decent attempts to get on the board, but nothing Caleb couldn't handle.
The scariest moment of the night
, and one that showed the character of Toronto FC, came in the 70th minute when de Guzman slid in on Angel, earning the straight red card. Seriously guys? JPA gets a hat-trick in a friendly and you resort to this? New York scores eight straight unanswered goals on you, and it comes down to this?
Watching Juan Pablo roll around on the ground, and tentatively limp off the field was by far the worst moment of this pre-season. Early reports this morning are that it's a lower-leg strain, and not a knee. At the time, I was certain that he'd torn something in his knee. It definitely served as a reminder of how fragile any success we find might be. It also made me think we'd better get this Agudelo signing done already. But, thankfully, the preliminary diagnosis sounds good.
Something to be noted here, following Angel's injury, should be the team's commitment to the 4-4-2. Garcia came in for Angel, and rather than going to a 4-5-1, Backe moved Hall up to a forward position until Woly was ready to come in and replace him. I'm telling you, Backe has a plan and is going to stick to it. Many reports have come from players criticising Osorio's method of constantly adapting strategy every week in an attempt to capitalize on an opponent's weakness. Backe is taking the opposite approach entirely; his plan seems to be: "This is who we are; this is what we do. You adapt to us, if you can." The Red Bulls are forming an identity, a style - and an attractive style of play at that.
The last goal of the night came on a
goal strung together by four of our five rookies
. (Ream wasn't involved in this one, but he already created one earlier in the night). Tchani, Garcia, and de Luz all worked to get the ball up to Chinn, who found the back of the net, making the score 4-0, where it stayed until the game ended.
OK enough with the match report. I'm not much of a beat reporter; I'm more of an op-ed/essay guy. Several of my observations are interspersed above. Here's a few more to wrap things up. It was nice to see Tchani on the pitch, as he's been nursing a small injury. You couldn't help but notice what a great passer he is. He knows where to put the ball and then is able to put it there. He's also a pretty big guy - a real presence in the midfield. I'm looking forward to seeing Tchani and Lindpere teamed up in the center.
The rookie class: what a
great batch of draftees
we got this year! Honestly, it is too bad that we probably won't have room for them all. Tchani is GA and has a spot. Da Luz has shown enough, I think, and unless we sign a veteran center back, Ream seems to have earned himself a spot. Garcia is a hard, hard worker. His height is a disadvantage, and with Richards having himself a good spring, and Hall seeing time on the right side too, I'm afraid he is probably not going to make the team. Chinn is the most difficult to predict. If we go into the season with JPA, Kandji, and Woly, it seems to leave one spot for either Agudelo or Chinn. But Kandji is always out with a never-ending string of tweaks, knocks, and paper cuts. That, combined with some poor finishing, makes me wonder if he will not be a part of the team.
Let's not forget:
Roster and Salary Compliance date is TOMORROW, March 1st
.
OK, finally, and unfortunately: My wife, light of my life and best thing in the world to ever happen to me, put her brain on auto-pilot yesterday and grabbed her camera and put it in her purse on her way to work yesterday. By the time I noticed, it was too late to retrieve it. That left me with my cell phone camera. I don't know if you've ever tried to take night-time sports action shots with a cell phone before, but let me tell you--it doesn't work. So, I limited myself to non-action shots, which I present below. Apologies to my blog partners, viper and Who Shot Sam, and to all of you who take the time to come over to TVN and spend your minutes reading. I'd hoped to get some great shots of the team. There's always opening day!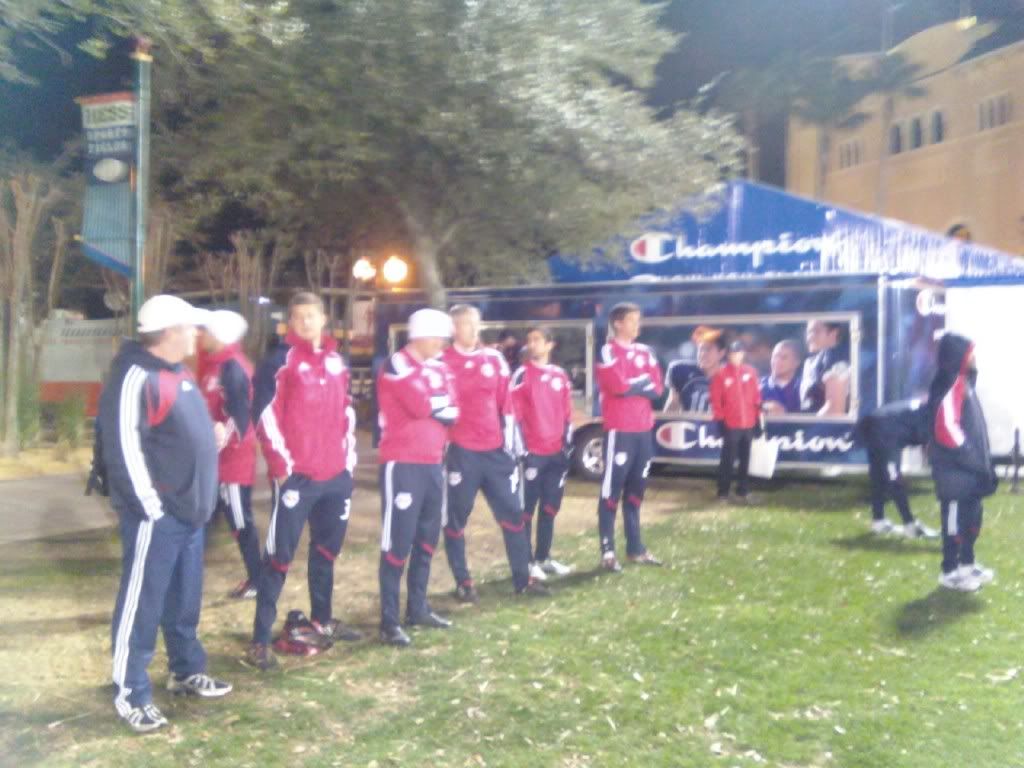 Some of the guys check out a few minutes of the Houston/Dallas game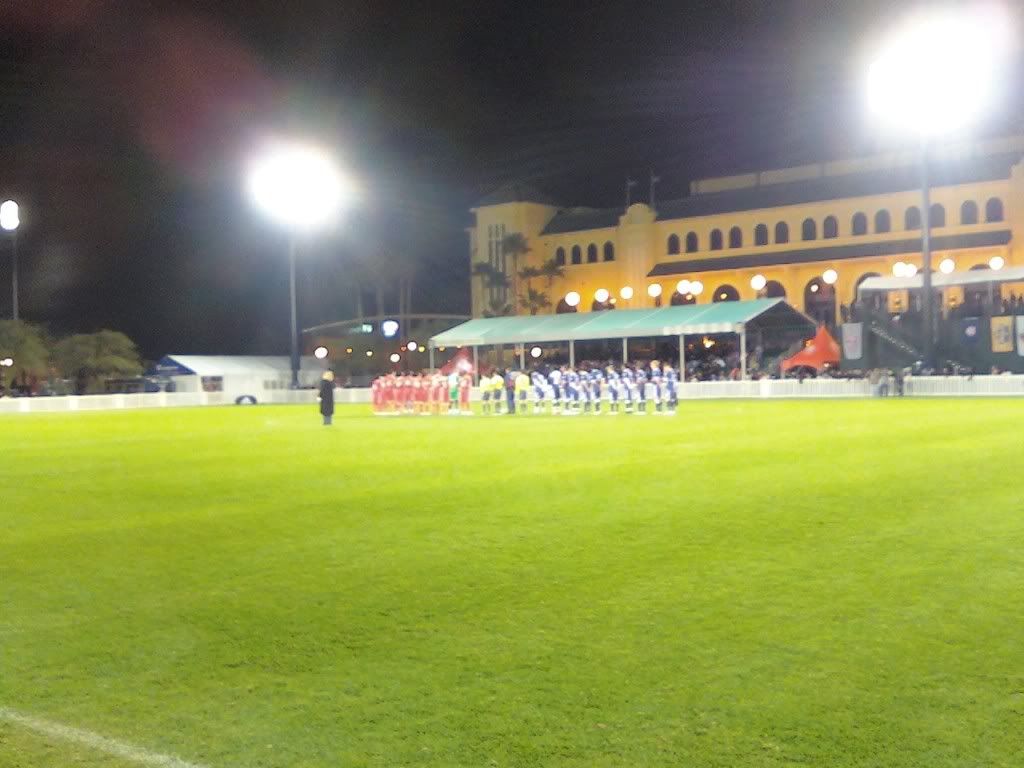 Note: The Red Bulls, turned sideways, are facing the Canadian flag during the singing of "Oh Canada." The Toronto players, staring straight ahead, have no idea where it is. That's OK. They couldn't find the goal, either.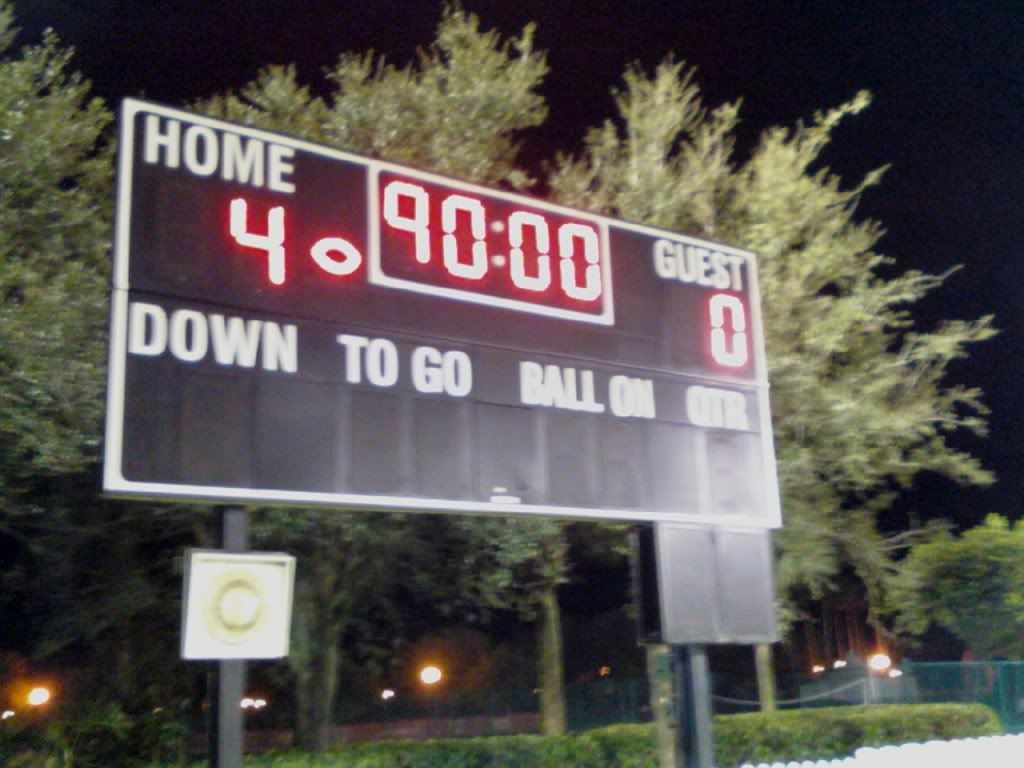 The final score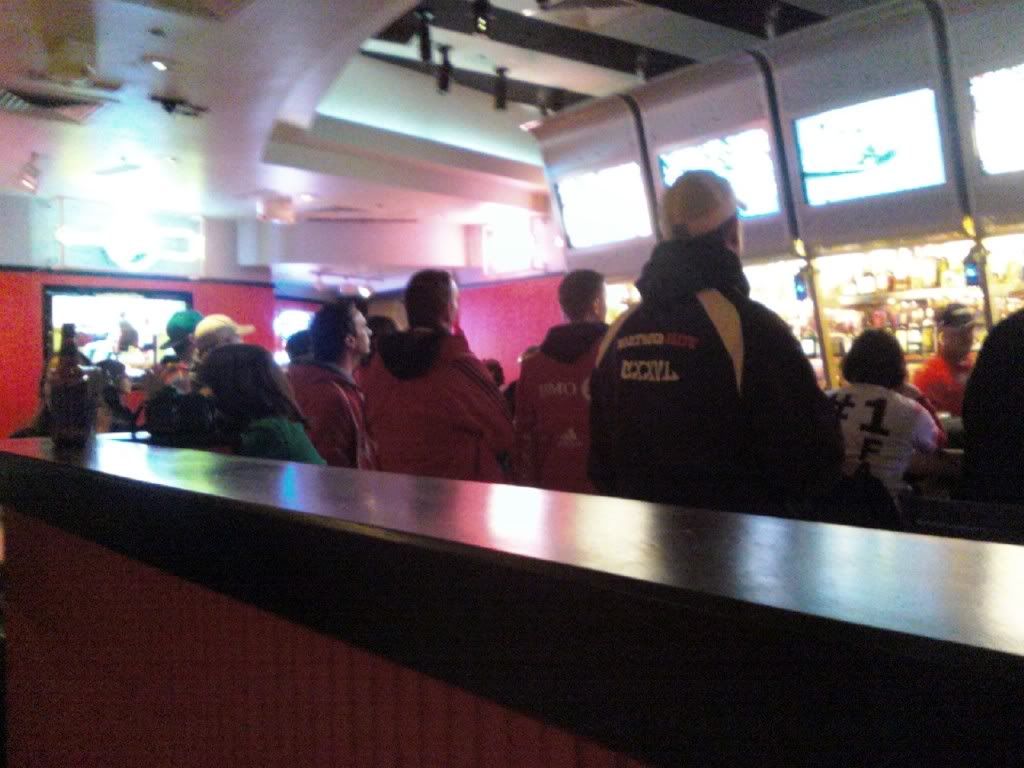 I guess they sold Labatt's at the ESPN SportsZone Bar.