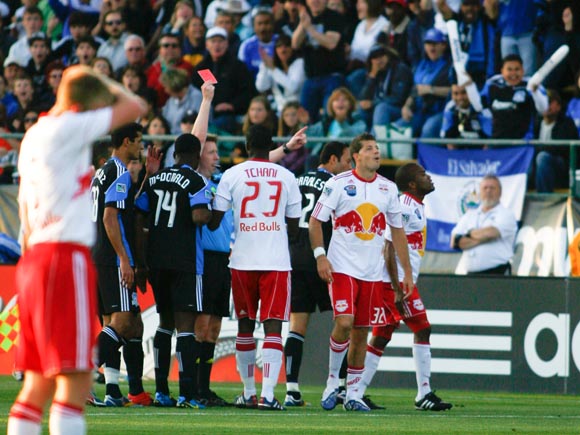 Above pic courtesy of
Douglas Zimmerman
So, did Mr. Backe commit his first big mistake of the year by sticking Bay Area native Luke "Blockhead" Sassano in the starting lineup at right back? Was it really necessary to have him start in front of his family? Surely Jeremy Hall wasn't playing all that bad at right back. Sassano got himself a red card in the 12th minute (as seen in the above pic) for a horror tackle on San Jose's Bobby Convey (
click here
for the lowlights video, about a minute in), leaving the Red Bulls short-handed for the remaining 78 minutes of the game. It was 100% the correct call and it was just embarrassing watching Sassano argue that with the ref (not to mention Juan Pablo and whoever else). That's a red f'ng card anywhere in the world and kudos to the ref for having the balls to call it.
I thought it was going to be a Red Bulls loss, but a 4-0 drubbing was just an embarrassment. I thought scorelines like these were a thing of the past, but apparently not. The
second San Jose goal
was a comedy of errors, as Ream didn't know where he was, apparently, and a soft shot by San Jose's Joey Gjertsen rolled right under Bouna Time Condoul. It was Condoul's second big gaffe of the year. Thank God for Chris "The Human Gaffe Reel" Seitz at Philadelphia, eh? On the
third goal
, Ream found himself on the wrong side of San Jose's Wondolowski, who had the easiest of tap-ins. The
fourth goal
was yet another comedy of errors, as the biggest player on the field, San Jose's Burling, was left without anyone marking him and had the easiest of headers. I mean, really, how the F does that happen?
OK, so it's now time to look towards Wednesday's US Open Cup tilt against the New England Revolution. And let's pretend yesterday's game never happened.