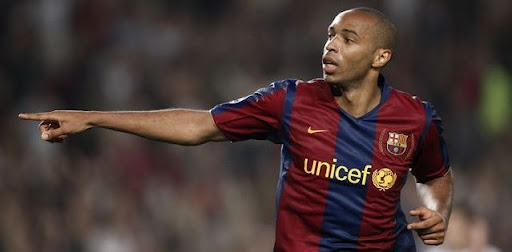 Good afternoon! Just a few things Red Bulls related on this glorious Thursday. First, the Thierry Henry to the Red Bulls rumor is really, really heating up now. Earlier this week, there were several reports (including
this one
by Stefan Bondy, where he cited
this article
) saying that Henry has negotiated an exit from his Barcelona contract. This would pave the way for the Frenchman to finally sign with Red Bull NY. But hold on an minute: the article Bondy cited mentioned that DC United was also interested in signing Henry. This suggestion has
now been refuted
by DC's owner Will Chang:
European reports said that United is interested in French legend Thierry Henry, who has been linked with the New York Red Bulls. Chang, however, said that "it would be highly unlikely that we would bring him in."
It would really be hard for me to believe that Henry would even think of signing with the sinking ship that is DC United. That said, money talks. Then again, RBNY
has lots more of that
than DC.
Another rumored Red Bull target just about confirmed he's actually coming. Big Apple Soccer
reports today
that Brazilian playmaker
Ze Roberto
, currently playing for
Hamburger SV
in the German Bundesliga, has, apparently, accepted an offer to join the Red Bulls. In the
Fussballtransfers.com report
cited by Big Apple Soccer (Google translation
here
) Mr. Roberto states (when asked about his possible move to RBNY):
"I don't want to talk about it yet. I'll do that until the season is over. After the match in Bremen - then we look further, "said Ze Roberto to Sport Bild '.
This is a far cry from just about a month and and a half ago, when Mr. Roberto
completely denied
he would be joining RBNY this summer. I guess that massive
$5mil per year offer
from RBNY was to good to pass up.
Kristian Dyer, writing for Goal.com, has a
very interesting article
today. Apparently,
Uncle Dietrich
was actually looking to purchase an expansion franchise that would play within NYC boundaries (Queens?) when Red Bull first approached MLS.
AEG
, desperate to unload the MetroStars, talked him into buying our crap ass franchise instead. Thank you God! Can you imagine the RBA site in Harrison still being a mound of dirt and us having to go to that new
artificial turfed monstrosity
at the Meadowlands for our home games? Shivers... On the other hand, our team and stadium situation would still be crap, but at least we'd still have that
very cool name & identity
(rolling my eyes as I type that).
On a serious note:
Joe Vide, one of our former players, was recently diagnosed with
Hodgkin's disease
. Joe was an all around nice guy when he was here. Check out the video above of him hanging in the supporter's section during a game. He's now fighting for his life and has, apparently, been screwed by his insurance company (what a f'ng surprise). All of his chemotherapy expenses are going to be out-of-pocket, so friends have set up
a website
and
a Facebook page
where you can send a donation and well wishes. I implore all Red Bulls fans to contribute. Thank you.
Finally, our own Matt Conroy (aka Who Shot Sam) has been moonlighting again on the great
All Things Footy blog
. This time, Matt discusses the massive
MLS Fail of Fox Soccer Channel
. Check it out!