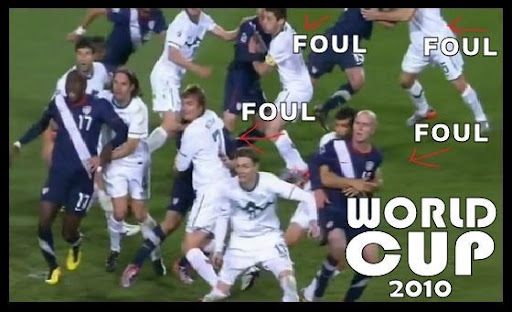 So the USMNT stages
the greatest comeback in USMNT history
, and the stupid ref calls the winning goal back for
a phantom foul
! The US players, and all those watching at home,
were mystified
by this horrible call. I mean, WTF???? How the hell are idiots like this picked to ref in the world's most important sporting tournament? There should be an immediate investigation by FIFA (of course, they'll do nothing).
According the
this post
in the great
Dirty Tackle blog
, the official FIFA report cites a foul by Maurice Edu as the reason the goal was called back. I guess referee
Koman Coulibaly
(a name that will live in infamy) had to come up with something! Someone please check his bank account!
I guess I shouldn't be too pissed, as the USMNT found themselves down 2-0 in the first half. I should be happy with the point but I'm not. This would have been a fight-back of epic proportions had that goal stood. Landon Donovan (the greatest US player ever) scored
the most incredible goal
from the most impossible angle. It should be said that if the Slovenian goalkeeper
hadn't been so scared
to come off his line, Donovan would never have scored but WTF, we'll take it!
The USMNT will advance to the knockout round by beating Algeria, by 2 goals, in their final 1st round game (or so I've read) however there are a few
different scenarios
to contemplate as well. Check out the highlights by
clicking here
and Go USA!