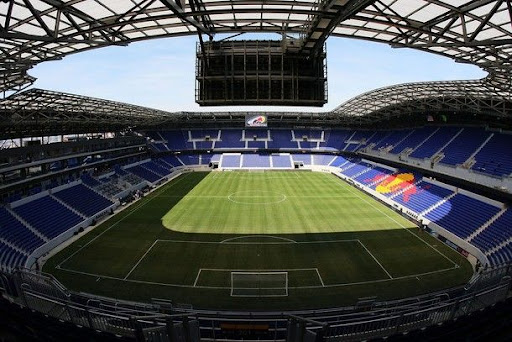 Good afternoon! It's another fine one here in RBNY land and our team is back in MLS action @
The Cathedral of Football
, against the New England Revolution. It is, in fact, the final game of the regular season (and
Fan Appreciation Night
) and it's Must-Win-Time for the Red Bulls. The Columbus Crew is only one point back of the Eastern Conference Red Bulls, with one game left as well. Anything less than a Red Bulls victory today would leave the door open for The Crew to snatch that all-important first place in the East at the death. There is no better time for the Red Bulls, who are coming off a forgettable
2-1 loss
to the Philadelphia Union this past Saturday, to get back to winning ways.
The Revolution have nothing at all to play for. Nothing at all except pride, and the Revs will be looking to
play the spoiler
today. The Revs have Shalrie Joseph has single handedly killed the Red Bulls, time and time again, throughout the years he's been in the league. The Revs have been a crap team throughout the season, but
they defeated the Red Bulls
, by the score of 3-2, up @
Gillette Stadium
on May 29th, and will surely be up for this one.
The Red Bulls have everything to play for here. First place in the East would guarantee a home game in the single game Eastern Conference final (provided the Red Bulls get past the first round of the playoffs, of course). Incredibly, the Red Bulls haven't defeated the Revs
in 16 games
(MLS League games), dating back to 2005. The Red Bulls will also be
without Thierry Henry
, who will miss his second match in a row with a knee injury. Salou Ibrahim (the
forgotten striker
) added spark as a substitute, in the second half, against Philadelphia and might get the start today. So with all that in mind, let's get to some predictions!
Matt Conroy (aka Who Shot Sam) has this for us:
The Red Bulls played arguably their worst 45 minutes of football in the first half against Philadelphia. In fact, they haven't really put in a strong performance since the away win in LA about a month ago. Angel is "unsettled," Henry is constantly injured when he's not impersonating the Invisible Man out on the pitch, and you have no idea from one week to the next what kind of tinkering Hans Backe is going to do with the midfield and strikers.

This week, with the Eastern Conference on the line, Henry is missing again. At least I won't have to concern myself with whether or not this will be his breakout game. Backe has promised to give several players who have not featured much a rare start. Is that really a good idea, when we have so much riding on this game? We shall see.

Our record against New England over the years is horrific, and Metro/Red Bull killer Shalrie Joseph unforttunately seems to have found his scoring boots recently. So I cannot predict anything but a loss on Thursday night at home. 2-0 victory for New England with Joseph and Stolica scoring for the Revs, while the Red Bulls manage two shots on goal and end up with nothing to show for it.
Man, defeatism has slowly, but surely, creeped in again here at The Viper's Nest. And that's why I'm going to predict a loss myself (ha, ha). I think Mr. Backe's tinkering with lineups and lineup changes are not going to help us at all in this one and... did I mention Red Bulls killer Shalrie Joseph will be on the field? I'm thinking a
1-0 Red Bulls loss
, but I hope I'm way wrong (of course).
Homebrew Tim has this for us:
Red Bulls finally come through and put their stamp on the Eastern Conference trophy tonight. Rafa Marquez is the solution to stopping Shalrie Joseph, who will fall off the wagon as soon as the match reaches full time. With Henry out, Ballouchy will hook up with Angel for the night's only goal, in a chilly and somewhat dull 1-0 victory for the Red Bulls. We are first in the East
Last but not least, the great You Suck Corrales has this quick one (which I got by phone) for us:
Yeah, put me down for a 2-1 (Red Bulls) loss. I just have a sinking feeling.
Alrighty then! We'll have our usual massive photo & video coverage up in the next couple of days. Let's hope for the best and I hope to see you at the game. Viper Out!